3 Line IP phone, 132×64 LCD, Dual Gigabit Ports, PoE/HDV. No Power Adapter included
The SIP-T23G is a cost effective IP business phone featuring an intuitive user interface with secure provisioning and HD audio for excellent voice quality. This phone is ideal for those working in small and large office environments requiring Gigabit Ethernet and access to a variety of enhanced features
The Yealink SIP-T23G features intuitive user interface and enhanced functionality which make it easy for people to interact and maximize productivity. Yealink HD technology enables rich, clear, life-like voice communications, outsourced management options, flexible deployment and third-party communications applications.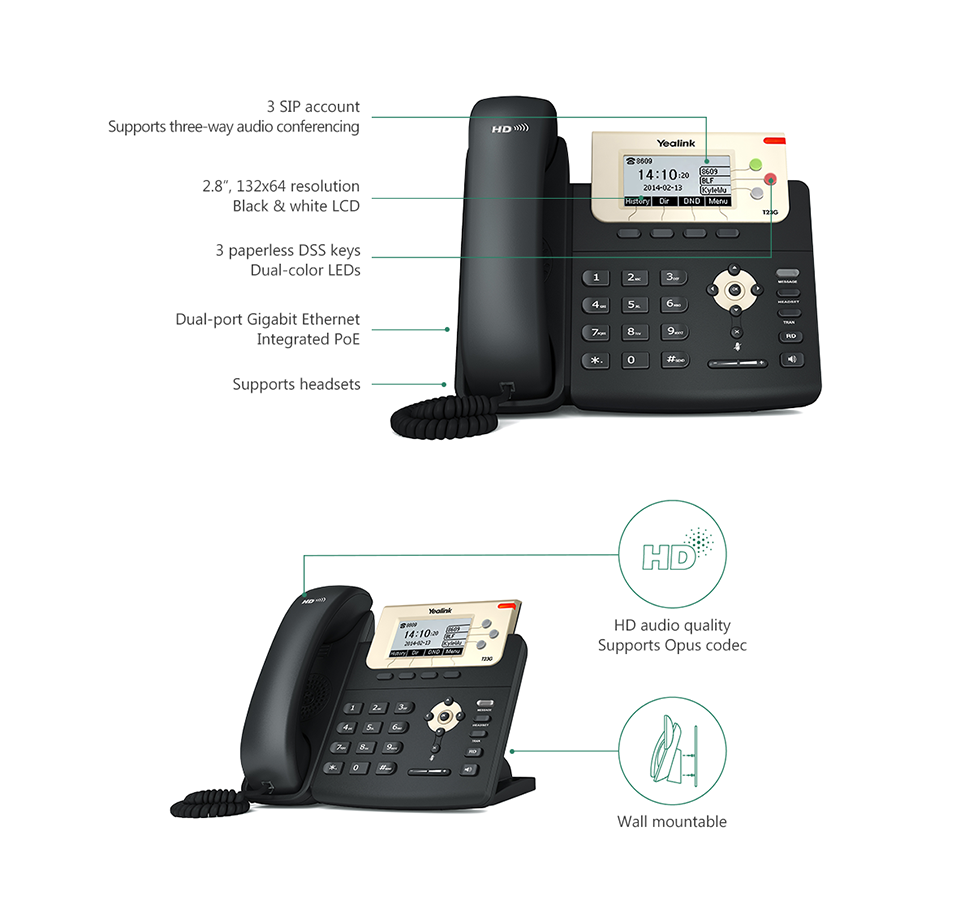 Features
•HD voice: HD handset, HD speaker
•Wideband codec: G.722
•Narrowband codec: G.711(A/µ), G.723.1, G.729AB,G.726, iLBC
•DTMF: In-band, Out-of-band(RFC 2833) and SIP INFO
•Full-duplex hands-free speakerphone with AEC
•VAD, CNG, AEC, PLC, AJB, AGC
Phone Features
•3 SIP accounts
•Call hold, mute, DND
•One-touch speed dial, hotline
•Call forward, call waiting, call transfer
•Group listening, SMS
•Redial, call return, auto answer
•Local 3-way conferencing
•Direct IP call without SIP proxy
•Ring tone selection/import/delete
•Set date time manually or automatically
•Dial plan, off hook hot line
•XML Browser, Action URL/URI
•Integrated Screenshots
•RTCP-XR
Directory
•Local phonebook up to 1000 entries
•Black list
•XML/LDAP remote phonebook
•Intelligent search method
•Phonebook search/import/export
•Call history: dialed/received/missed/forwarded
IP-PBX Features
•Busy Lamp Field (BLF)
•Bridged Line Apperance(BLA)